In 2006 Bill Truitt was selected as one of four inaugural members of Forster Precision Products' "ProStaff", a national advisory panel of shooting-sport experts. Here are excerpts from a Forster brochure profiling their ProStaff members and explaining the panel's purpose.




Meet the Forster ProStaff:




William Truitt




Salisbury, Maryland



Shooting related activities: Active Benchrest competitor and instrumental in helping pioneer 600 yard sanctioned matches; professional gunsmith; reloads calibers from .17 to .50

Bill's love of benchrest shooting began in 1984. Since then, he has participated in many variations of the sport with great success and has excelled in 600-yard competition, which requires precisely and consistently loaded ammunition as well as a very refined shooting technique. Professionally, Bill operates Bill's Accuracy Shop. He is an accomplished gunsmith who has built custom rifles for various uses for shooters from Virginia and South Carolina to Washington State. To ensure continued optimum performance with some of the rifles he builds, he also provides many of his customers with custom loaded ammunition and to guarantee repeatability of these loads, some of them have also been provided with a Forster Co-Ax® press and dies set up for their new rifles.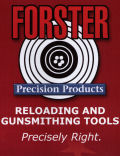 Introducing:

The Forster ProStaff



A special advisory panel of accomplished shooters, reloaders and gunsmiths whose input will help us improve upon and develop the products that YOU need for the sport you love. The members of our new Forster ProStaff come from all parts of the country. Their shooting specialties and backgrounds differ, as do their firearms and reloading preferences. However, there is one common denominator that unifies them: They are all exceedingly good at what they do. And, like most high achievers, they're all very serious about improving the tools they use so they can continue to advance their own skill levels. That's why we asked for their help. We know that our varied product line has applications for several precision shooting sports, from different types of hunting to a broad spectrum of competitive shooting venues. And the equipment requirements of each of those shooting disciplines – including reloading equipment – is very specialized. So, we determined that the very best way to stay abreast of current trends, techniques and methodology within each of those vastly different yet closely related shooting niches would be to ask for advice from the successful practitioners who have been there, done that, and continue doing it with panache. And that's how the Forster ProStaff was born. We gathered together a group of four accomplished shooters who have distinguished themselves in various disciplines. We listen to their comments and suggestions about how we might make changes or improvements in our products that will fulfill the wishes of some of their shooting compatriots. Look for these ProStaff members at matches or trade shows you might attend. Or talk to them in their shops. They'll welcome your input and they'll pass it along to us, flavored with their own comments and recommendations. We'll use that information to continue providing you with the best reloading tools and equipment to help you be the best you can be at what you do.


... Back to the About Bill Truitt page ...